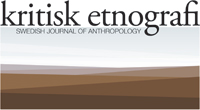 Svenska Sällskapet för Antropologi och Geografi lanserar en ny antropologisk tidskrift 2018. I det första numret samlar vi originalartiklar av ledande antropologer tillsammans med rapporter från den svenska antropologin. Tidskriften vill främja engagerade och ansvarsfulla vetenskapliga studier genom att kombinera global räckvidd, lokal relevans och offentligt engagemang.
Namnet kritisk etnografi signalerar tre saker. För det första ligger fokus på etnografi och hur etnografi bedrivs, skapas och transformeras. För det andra syftar namnet till att främja kritiska reflektioner kring hantverket och praktiken av etnografi. För det tredje, det svenska namnet signalerar att tidskriften är grundad på svenskbaserad akademisk antropologi och dess många utsikter till världen.
kritisk etnografi – Swedish Journal of Anthropology kommer ut med två nummer per år, som kombinerar originalartiklar med rapporter och nyheter från det svenska antropologiska samhället. Tidskriftens språk är engelska.
SSAG:s medlemmar får alla nummer av tidskriven med e-post.
Flygblad (pdf)
Redaktörer
Sten Hagberg
Uppsala universitet
Jörgen Hellman
Göteborgs universitet
E-post: editors@kritisketnografi.se
Postadress:
kritisk etnografi
c/o Sten Hagberg
Institutionen för kulturantropologi och etnologi
Uppsala universitet
Box 631
751 26 Uppsala
Sverige
Redaktionskommitté
Gudrun Dahl, Stockholms universitet
Maris Gillette, Göteborgs universitet
Tova Höjdestrand, Lunds universitet
Steffen Jöhncke, Københavns Universitet
Kari Telle, Chr. Michelsen institute
Paula Uimonen, Stockholms universitet
Charlotta Widmark, Uppsala universitet
Distribution
SSAGs kritisk etnografi – Swedish Journal of Anthropology är en open access-tidskrift tillgänglig i fulltext i DiVA genom tidskriftens webbplats kritisketnografi.se.