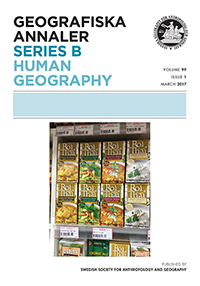 SSAG issues the journal Geografiska Annaler B four times per year. Geografiska Annaler was first published in 1919 but were divided into two series in 1965: (A) physical geography and (B) human geography. Geografiska Annaler B covers theoretical as well as empirical aspects of human and economic geography. The journal has no specific regional profile, but a certain emphasis on the Nordic countries and the countries around the Baltic Sea. The journal is international and published in English. Peer-reviewed articles with scientific results from all over the world are published in the journal.
58/84 in Geography (Web of Science 2019)
1.383 impact factor 2019
Editors-in-Chief
Rikard Eriksson
Department of Geography
Umeå University
901 87 Umeå
Sweden
E-mail: rikard.eriksson@umu.se
Susanna Heldt Cassel
School of Culture and Society
Dalarna University
791 88 Falun
Sweden
E-mail: shc@du.se
Distributor
Distributed by Taylor & Francis. Please contact the publisher to purchase individual copies of Geografiska Annaler B.