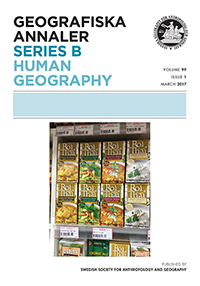 SSAG issues the journal Geografiska Annaler B four times per year. Geografiska Annaler was first published in 1919 but were divided into two series in 1965: (A) physical geography and (B) human geography. Geografiska Annaler B covers theoretical as well as empirical aspects of human and economic geography. The journal has no specific regional profile, but a certain emphasis on the Nordic countries and the countries around the Baltic Sea. The journal is international and published in English. Peer-reviewed articles with scientific results from all over the world are published in the journal.
ISI Journal Citation Reports® Ranking: 2015:
66/77 Geography
Impact Factor: 0.5
Editors-in-Chief
Richard Ek
Deptartment of Service Management
Lund University, Campus Helsingborg
Box 882
SE-251 08 Helsingborg
Sweden
E-mail: richard.ek@ism.lu.se
Phone: +46 4 235616
Brita Hermelin
Centre for Municipality Studies
Linköping University, Campus Norrköping
SE-601 74 Norrköping
Sweden
E-mail: brita.hermelin@liu.se
Phone: +46 11 363415
Distributor
Distributed by Taylor & Francis. Please contact the publisher to purchase individual copies of Geografiska Annaler B.