The Vega Medal
The Vega Medal 2023 goes to John Smol Professor in the Department of Biology and the School of Environmental Studies at Queen's University in Kingston, Ontario, who together with his research group is recognized as one of the foremost experts on the study of long-term global environmental changes to lakes and rivers, and especially as they relate to many of the most pressing environmental issues, such as the long-term effects of lake eutrophication, acidification, contaminant transport, fisheries management, and a large body of work on climate change with a special focus on the Arctic. John Smol is unquestionably one of the most prolific scientists in paleolimnology, and certainly the most prolific regarding northern lake systems.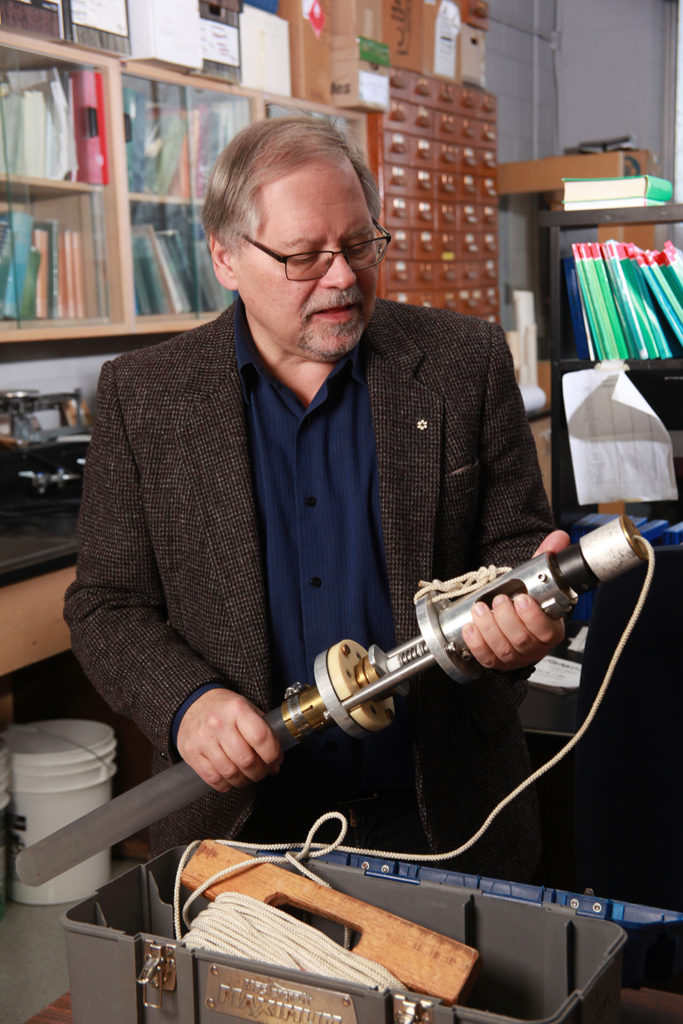 Professor John P. Smol is the founder and head of the Paleoecological Environmental Assessment and Research Laboratory (PEARL), a group of about 40 researchers and students working throughout the world on a variety of limnological and paleoecological problems. John Smol received his B.Sc. in Marine Biology from McGill University in Montreal in 1977, M.Sc. in limnology from Brock University, Ontario in 1979, and received his Ph.D. in 1982 from Queen's University. Following post-doctoral work with the Geological Survey of Canada, he joined the faculty at Queen's University in 1984, and was promoted to Full Professor in 1991. During 2001–2022, he has been the Canada Research Chair in Environmental Change.
Together with his research group and a wide-ranging number of collaborators, Smol has an extraordinary publication record with more than 670 journal publications and book chapters, more than 20 books, and more than 1100 conference contributions, including 150 invited keynotes and plenary lectures. He founded and was the editor (1987-2007) of the Journal of Paleolimnology, is editor-in-chief since 2004 of Environmental Reviews, and initiated and has been the series editor for the Developments in Paleoenvironmental Research Series, which currently has 15 volumes.
John Smol's contributions to research and teaching are well recognized, with more than 50 awards coming from a diverse range of organizations, including the North American Lake Management Society, Geological Association of Canada, American Society of Limnology and Oceanography, Royal Society (London), and recognition from other universities in Canada as well as Finland, the UK and China. In 2010 he was named by Nature magazine as Canada's Top Mid-career Scientific Mentor, and because of the importance of his research focused on understanding the effects of global climate and environmental changes, especially across the arctic landscape, Canadian Geographic magazine in 2013 named John Smol as one of nine 'Canadians changing our world'. In 2018 John Smol was inducted as a Fellow of the Royal Society (UK) and in 2019 received the Polar Medal in Canada for "extraordinary services in the polar regions and Canada's north". Currently he is President the of the Academy of Science, Royal Society of Canada.
The Vega Day 2022 will be held at the Royal Swedish Academy of Sciences 21 April at 14–18.
The SSAG supports the International Geographical Union's statement on the crisis in Ukraine
The International Geographical Union notes with dismay the alarming situation in Ukraine and finds the invasion of a sovereign democratic nation by Russian forces outrageous and unacceptable. These actions are undermining global security and stability and have led to deplorable human suffering and loss of life.

In the interests of peace and stability in international relations, we call for an end to the hostilities and for a resolution that respects the sovereignty of Ukraine and all its people.

The International Geographical Union stands in solidarity with the people of Ukraine and its community of geographers, along with those in Russia who are courageously manifesting their rejection of war. We wish the citizens of Ukraine great strength in resisting and overcoming this shocking crisis.

We note that scientists and scientific journalists in Russia have issued the following open letter on the situation:
https://www.eureporter.co/world/russia/2022/02/24/an-open-letter-from-russian-scientists-and-science-journalists-against-the-war-with-ukraine/
Swedish Society for Anthropology and Geography (SSAG)
SSAG publishes the scientific journals Geografiska Annaler, Series A: Physical Geography, Geografiska Annaler, Series B: Human Geography and kritisk etnografi – Swedish Journal of Anthropology, and the yearbook Ymer – an anthology in Swedish on a current theme of research.
SSAG supports geographical and anthropological research with scholarships.
SSAG arranges gatherings with lectures and the scientific symposium the Vega Day with international speakers.
SSAG hands out medals.
Anyone who is interested in geography or anthropology is welcome to become a member.