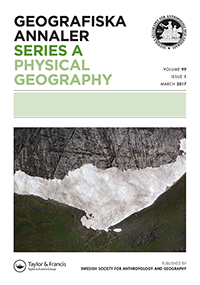 SSAG issues the journal Geografiska Annaler A four times per year. Geografiska Annaler was first published in 1919 but were divided into two series in 1965: (A) physical geography and (B) human geography. Geografiska Annaler A covers physical geography and related disciplines, and also interdisciplinary studies with strong connections to physical geography. The journal is international and published in English. Peer-reviewed articles with scientific results from all over the world are published in the journal.
ISI Journal Citation Reports® Ranking: 2015:
30/49 Geography, Physical; 18/47 Geology
Impact Factor: 1.609
Editors-in-Chief
Dr. Johan M. Bonow
Department of Social and Economic Geography
Uppsala University
PO Box 513, 751 20 Uppsala
Sweden
E-mail: johan.bonow@ssag.se
Professor Hans W. Linderholm
University of Gothenburg
Department of Earth Sciences
PO Box 460
SE-405 30 Göteborg
Sweden
E-mail: hansl@gvc.gu.se
Associate Editors
Marie-Françoise André, Univ. Clermont-Ferrand, France
Kate Rowntree, Rhodes Univ., South Africa
Lothar Schrott, Univ. of Bonn, Germany
Darrel Swift, The Univ. of Sheffield, UK
Jee-Hoon Jeong, Chonnam National Univ. Republic of Korea
Yu Liu, Chinese Academy of Sciences, China
Anne Solgaard, Geological Survey of Denmark and Greenland (GEUS), Denmark
Distributor
Distributed by Taylor & Francis. Please contact the publisher to purchase individual copies of Geografiska Annaler A.